How to Create the Perfect B2B Event Dashboard?
Table of Contents
Congratulations! By reading this article, you've made a huge step in becoming a better than average event marketer. Many marketers deliver great events. Yet, forget to track the performance through an event dashboard. This is not going to happen to you.
Why is a B2B event dashboard important anyway?
The primary reason why you do events is to generate sales opportunities. Events can be expensive so you need to make sure to get the most value out of events.
Of course, this will be hard without proper reporting. How are you going to track the sales opportunities created?
It's your responsibility as the event owner to get the greatest value out of the event. Many marketers arrange the event and then think it's now up to sales to close the deals.
Wrong!
A great B2B marketer will feel responsible for getting the greatest value out of an event. This also means chasing your sales team to follow up on event leads. You also need to make sure that opportunities don't stagnate.
Generally, B2B sales cycles are quite long and you shouldn't be surprised to see sales cycles that span over a year.
Though, you should see the first signals of potential Event ROI within months in your CRM.
Consider that events often repeat yearly. Marketers often need to sign the contract of events months in advance.
How are you going to justify the investment in an event if you don't see any return on investments yet?
An event dashboard will help you justify your investments. It will also help you to analyze the pipeline generated. It will help you prove ROI and to show management you've made the right decision. It's a key digital strategy after a B2B event.
Watch the video or continue reading. In any case, don't forget to look at the examples below!
Event Dashboard Examples
There are various types of B2B events. But, you can summarize them in 2 types.
Events in which you take part or sponsor;
Events that you set up yourself.
Depending on the type of event, you will need to add different reports. This is because they have different reporting requirements.
Let's take a look at examples of B2B event dashboards that I've created. Later, we'll dive deeper into how to create them.
Events that you sponsor
The primary reason for sponsoring events is to generate sales. So, your event dashboard should contain widgets that report on the following:
Opportunities created;
Pipeline generated in dollars;
Opportunity sales stages;
Won deals in dollars
Leads generated;
Marketing Qualified Leads (MQLs) generated;
Cost per MQL;
Job roles;
Some statistics per region such as Industry, leads, MQLs, pipeline, and deals.
Let's take a look.
This is an event dashboard from which I've received a lot of positive feedback. It reports on a large tradeshow that I've managed at the end of 2019.
The event dashboard does two things:
It provides management with the required information;
The underlying reports are actionable for the sales team.
We will soon dive into exactly why this dashboard is great.
Events that you set up.
You will need a different type of dashboard for events that your company is hosting. You should consider reporting on the following:
Registrations vs. targets;
Registrations over time;
Target / Named account registrations;
Registration by Industry and Job Roles;
Registration sources;
Registrations per Account Owners;
Registration by account type and by region.
The above-listed metrics are pre-event metrics.
Dashboards are often limited to a set number of graphs. So, you might want to create two dashboards. One for pre-event reporting and one for post-event reporting.
The dashboard for post-event reporting will be similar to the external event dashboard.
Let's take a look at a B2B event dashboard example of in-house created events.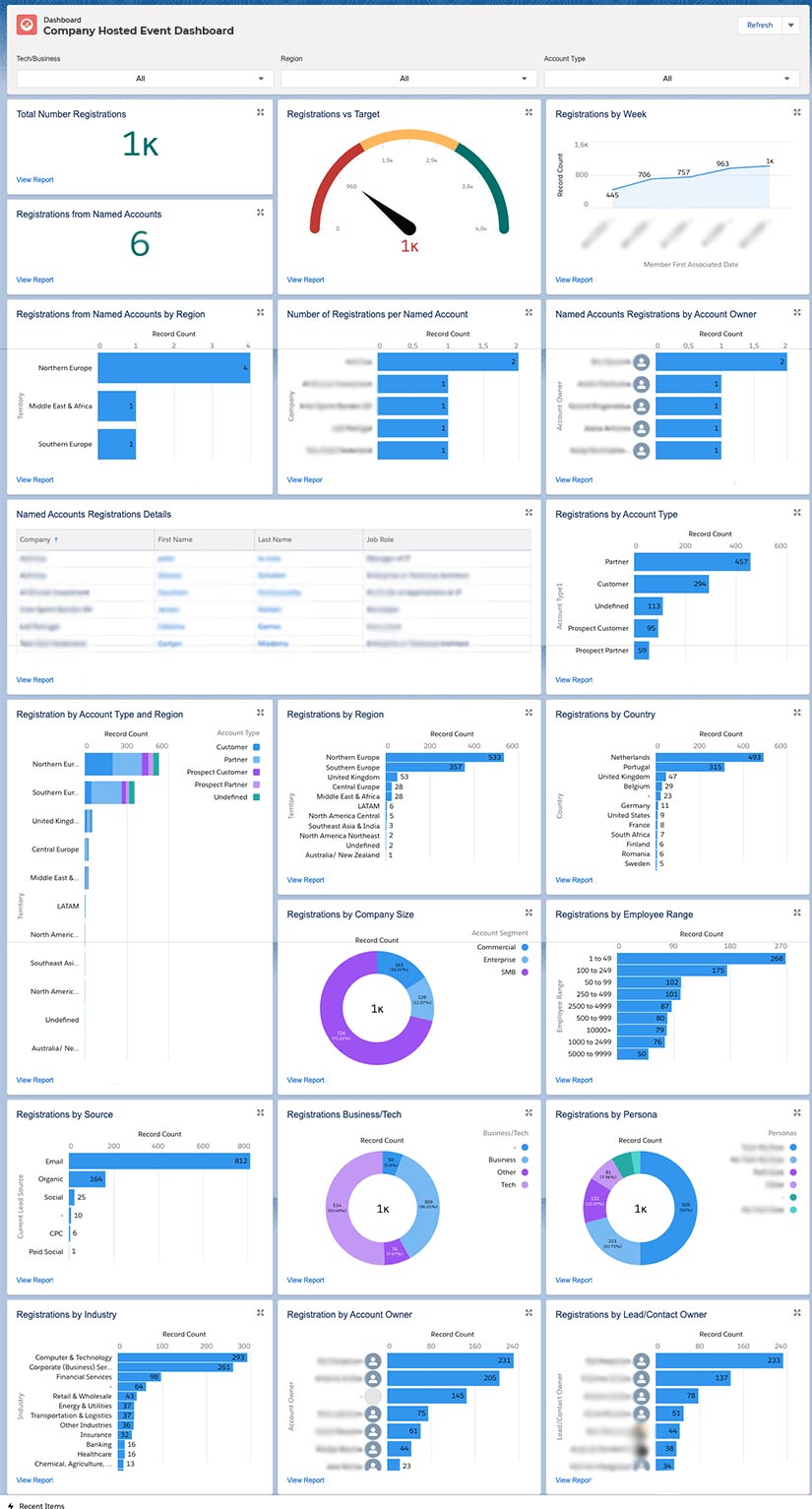 This is another dashboard that I've helped to develop. It reports on a huge customer event that we organized. It also works great for virtual conferences.
It was well-received as it contains information for all the relevant stakeholders. This includes teams such as sales, customer success, management, and marketing.
This event dashboard is carefully architected and vetted by a test group. Once approved, we sent it to the entire company.
Now, let's focus on how you can create an event dashboard for your own events. There are some things that you have to take into consideration.
Do not worry though, I will explain everything below. In no time you'll be receiving compliments on your lovely dashboard.
How to create the perfect event dashboard?
The ideal B2B marketing event dashboard will vary per company and per event. In any case, the below steps will guide you in developing the ideal dashboard for your company.
Select the right reporting platform
As a marketer, you will have access to a lot of tools. These tools generally provide reporting capabilities. But still, this might not be the ideal platform for you to report on.
Why?
You need to create reports with your stakeholders in mind. They need to be able to view the reports and work with the data.
Let's say you develop a dashboard on a marketing automation tool such as Marketo. Only the marketing team will have access to this dashboard. But, your sales team also needs to see the data. This raises the question: how valuable is this dashboard?
You need to find common ground. Generally, sales and other commercial functions have access to your CRM.
This is common ground and provides a single-source-of-truth.
At most enterprise organizations, this is Salesforce. But, there are many CRMs out there such as Hubspot, Pipedrive, and Zoho.
The dashboard examples that I've shown earlier in this article are on Salesforce.
My sales and management team use Salesforce, and that's why I choose to create an event dashboard there. They can work with the data and see all the details they need to do business.
An event dashboard looks great, but you need to make sure people can work with the underlying data.
Looking at data doesn't make sense. You need to understand the reasons and details behind that data. This way you can act on it.
Understand what metrics are important to the business
What are the right metrics for an event dashboard?
This is a question that 54% of marketers ask themselves before creating a dashboard.
Ask yourself this question:
"What is the ultimate goal of this event?"
By understanding this, you can develop a dashboard with the ultimate goals in mind.
Keep in mind that your ultimate goal might differ from other stakeholders in the company.
It's crucial to understand all the goals of your stakeholders. You can then implement this on the dashboard and it will be more useful for everyone.
Generally, these metrics are important to any business:
- Return on event investment;
- (Marketing Qualified) Leads created;
- Pipeline generated and pipeline velocity;
- Audience demographics such as Industry, Job Roles, and countries;
- Actuals vs. Targets.
Understand what reports are important to the viewers
As mentioned, it's important to understand the ultimate goals of your stakeholders.
You also have to understand what reports are important to those stakeholders. What is it that they want to see?
Teams such as customer success and the partner team might have different reporting requirements. For example, the sales team wants to see which leads you've generated for them. The channel team wants to see which partners registered for an event.
These reports need to be actionable for the various teams. It should include the ultimate goals, but also actionable reports.
Make it easy to see the source data
Bar and pie charts are visually appealing. But, sometimes they don't paint the full picture.
You need to understand the data behind a graph. You need the data to be actionable.
When developing a B2B event dashboard, make sure that it is easy to see the source data. This is why I often choose to create dashboards on our CRM. The entire commercial team has access to the CRM and they can drill through to the details.
Imagine that sales are looking at your dashboard. They notice event registrations from target accounts. They want to see exactly who this person is and access details such as his email address.
Make sure that people can work with your data.
Design source reports with your viewers in mind
You should also design the source reports with your viewers in mind.
Let's say you've developed a dashboard for an event that you've sponsored. You share this dashboard with the sales team. What do they want to see?
Sales want to see the generated leads. So, when developing the source report, make the first column the account owner. This way, sales can see which leads you generated for them.
The columns need to be in the right order, depending on your viewer. The below-listed column order generally works well.
1. Account / Lead owner;
2. Company Name;
3. Go-to-market strategy (target account or normal account);
4. Company type;
5. First Name;
6. Last Name;
7. Job Role;
8. Country;
9. Industry;
10. Email Address;
11. Phone number;
Always include targets vs actuals
No matter what B2B event you are reporting on, you will have a target. The target might be the number of registration or the amount of business generated.
Management should be able to see the current status compared to the targets defined. This should be at the very top of your dashboard.
As a manager, the first question that I will ask is:
How are we doing compared to the event target?
Guaranteed, you will get the same question. Anticipate these questions and be proactive in including graphs that answer them.
Get your dashboard checked before sending it to everyone
One of the mistakes I made earlier in my career was sending dashboards to people too fast. Be sure to first ask feedback before sending it to all your stakeholders!
I get it, you are proud of your dashboard and it is looking amazing. The first thing you want to do is show as many people as possible.
Don't do this!
Before communicating your dashboard to all stakeholders involved, first, get it vetted. Ask a couple of people to review your dashboard. Preferably, one person from each team (sales, customer success, marketing).
After collecting and processing the feedback, get the dashboard approved. This is often done by the senior management team.
Once approved, communicate your dashboard to all stakeholders involved.
Develop a template
Architecting the perfect dashboard is a lot of work.
Once, you've achieved the perfect dashboard, you want to reduce work in the future. You need a template!
When creating a dashboard, always think of scalability. You need to compose your dashboard in a way so that it's easy to copy and to use for another event.
Also, if you want to score some points within your company, share the template with other teams.
This way, your entire company benefits from your work. To top it off, you will receive some well-deserved credits
I'm super curious to understand if these tips worked for your company and I'd love to see them in action.
What is a key metric that you include on any B2B event dashboard? Let me know in the comments.
Share this article
Written by:
Ricky is the founder of Markletic. He is an expert in Marketing Technology with over 10 years of experience in testing and reviewing MarTech. Ricky's passion is to help companies with fine-tuning their MarTech stack to optimally impact revenue growth.